How To Choose The Right Braces Colors?
Once you have decided to have braces on your teeth. You will need to visit your orthodontist for braces adjustments in a definite time interval. During the adjustment visits, you have the opportunity to change the brace's color every time. Summer can be a great time to pick the best braces colors. Additionally, you have to determine what braces can be the most suitable for you and whatnot. Visit the best local orthodontist as he or she can help you in this appropriately.
However, there is no color guide to have the best one but you can choose them according to the current season, your complexion, personality, and the occasion. For instance, people can pick red and green during Christmas. Some good suggestions, to choose the best braces color;
What are the best colors braces?
If your complexion is dark, choose violet, orange, gold, pink to complement it.
Darker braces colors also make your teeth look whiter.
Pick the braces color that complements your eyes color also.
Consider the braces colors that match and complement the dresses that you wear frequently.
You can also pick a color similar to your favorite sports team jersey color.
Choose blue and pink during Easter and red, white, and blue for memorial day on 4th July.
If you have to attend a Halloween party, go with the glow-in-the-dark bands.
Visit orthodontists near me to clear your doubts regarding the braces' colors.
What Braces colors should you avoid?
Avoid colors like;
White; can cause a yellowish appearance.
Black;  can provide a rotten look as if you have food stuck in your teeth.
Yellow Braces can intensify the yellowishness in your teeth.
Brown; can make others feel that food is stuck between your teeth.
Don't feel scared to try different braces colors at each orthodontist visit. If you are unsure which will be the best one, take the assistance of your orthodontist.
Some Most Important FAQs About braces color;
How do I pick the color for my braces?
You can go through the braces color wheel or take the help of color modules to determine the most appropriate one fitting your overall personality.
Can I choose a few different braces colors?
Sure, you can. It will be great to have different looks. You can also pick rainbow colors that will enhance your look and surprise your friends.
What do black braces look like?
Most patients and orthodontists do not like Black colors for braces as they can make teeth appearance worse. Yet, you insist, you can go with the color.
Different shades of blue colors like light, dark, and sea blue will offer a great look to your overall personality. You can try all shades of blue as they all look good.
What do pink braces look like?
It is not necessary that a girl can only pick the pink color for braces. Sometimes boys can also choose them. They can try dusty pink, fluoro pinks a darker shade of pink, to look good.
Are orange braces a good color?
Depends, if it is your favorite color. Initially, they may look good but eventually, they may offer the sort of look you did not even brush.  You can also see the image at the orthodontist's office to clear his or her doubts regarding this.
Patients can also use their imagination or go through the before and after images to know how exactly they are going to look. You can also take the advice from your orthodontist, friends and near ones to determine the best braces color.
Related Posts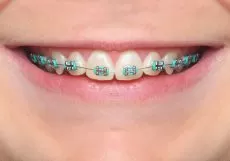 Andrin Andrin / May 27, 2023
Andrin Andrin / May 27, 2023
Andrin Andrin / May 25, 2023