Does Invisalign make teeth perfectly straight?
Everyone wants to own a perfectly aligned set of teeth. Nicely aligned teeth help you to self-confidence to a great degree. Modern dentistry presents the best way through which you can enjoy great teeth alignment with the Invisalign braces. The traditional metal braces will always be there and have a separate necessity. But, they come along with so many different factors and various drawbacks. In contrast to that, the Invisalign braces are a boon that helps you to get a beautiful smile without ugly metal and wires.
Invisalign – how it works?
They are a modernized form of braces, it is a new solution to promote teeth straightening without the use of wires and brackets. Rather, a tooth guard-like design, made from transparent plastic, that is particularly made for your mouth. These aligners are placed over your teeth to push your teeth into the desired alignment over the course of time. As time passes one needs to replace the existing set of aligners with the new ones in a couple of weeks.
Meet the nearest orthodontist to begin the process
First, it's important to understand if you are a suitable candidate for the procedure. Most of the orthodontic specialists that provide Invisalign treatment normally offer free consultation on it. During this, you can talk about the various concerns and get clarity about the process. Just locate such a clinic near your home or workplace and book a consultation to begin the process. It is important to tell here, Invisalign works with the 3D imaging technology to let you watch a final result which you will get once the procedure is done.
Traditional braces vs Invisalign which one is better
Invisalign remains invisible: It does not work like the traditional braces, the transparent bracket and whole thing remain transparent. Your friends, colleagues, and peers will never actually notice that you are on the treatment. In fact, after some time you'll also not realize you are on the treatment. Even when you smile standing you will not feel awkward and underconfident because of the metal. In fact, when you compare the braces before and after pictures you'll realize that not only Invisalign looks better but also corrects faster.
Invisalign braces are removable: Unlike the metal braces, the plastic aligners can easily be removed and put again as per convenience but please keep in mind that you need to have them for 22+ hours.
These braces cause minimal discomfort: Although Invisalign braces feel weird during the first two-three days, people say it's much easier to use them as compared to the metal ones, once that period gets over you will feel nice and comfortable.
Almost zero chances of allergic reactions: Metal braces are known to cause problems like cuts and bumps. Plastic aligners used in discrete teeth straightening therapy have no chances to cut the cheeks and lips. Moreover, it feels smooth and better in general. Coming to the cost of Invisalign it is the same and slightly more expensive than the metal one.
Related Posts
Andrin Andrin / November 29, 2023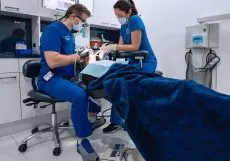 Andrin Andrin / November 9, 2023
Andrin Andrin / November 8, 2023