What Are The Popular Braces Color Combinations and Trends?
Braces are an old-fashioned but effective dental appliance to correct teeth alignment and other dental problems. Braces have come a long way from being an orthodontic treatment option to a means of personal expression and style. For many individuals, especially teenagers, having comfort dental braces is an opportunity to show off their personality and add a pop of color to their smile.
●   Traditional Combinations
Here are some of the color schemes that are still preferred by those who wear braces:
Red and blue: This traditional pairing gives a patriotic and sporty appearance. It's a favorite among people who cheer for sports teams or just like to stand out. Try royal blue braces for a royal look.
Pink and Purple: Pink and purple braces are a sweet, playful option with a kind, endearing look. This combo is popular among young females to show off their style.
Black and White: Black and white braces are an excellent option for a classy and stylish appearance. Or, you can try hot pink braces for a contemporary feel that matches many outfits in your wardrobe.
●  Seasonal and Holiday Themes
People with braces often take advantage of their orthodontic appointments to celebrate festivals and seasons with themed colors:
Halloween: Orange and black braces are a common choice for this frightful holiday, bringing a creepy twist to celebrations.
For Christmas, red and green braces or red and white combos are appropriate, adding a festive touch to your smile.
Valentine's Day: Wearing pink and red braces on Valentine's Day lets you wear your heart on your teeth rather than your sleeve.
●   Fashion-forward Trends
Brace options in terms of colors and styles have risen along with orthodontic technology. In the field of orthodontics, some of the latest fashions at present include:
Pastel Shades: Due to their understated yet fashionable appearance, soft pastel colors like mint green, baby blue, and lavender are becoming increasingly popular.
Rainbow Braces: Rainbow braces that come in a rainbow of colors have become popular among people who want their smile to make an eye-catching statement.
Glitter and Metallic Braces: Sparkling and metallic treatments are available for those seeking a touch of glitz. Your teeth have a dazzling appearance thanks to these braces.
Customization and Personalization: Advancements in orthodontic technology have made it possible to customize braces to an individual's liking:
Custom Colors: Some orthodontists offer the option to create custom colors, allowing patients to select shades that resonate with their personality and style.
Brace Accessories: Decorative accessories like colored bands, brackets, and even tiny decals can be added to braces to create a unique and personalized look.
In Conclusion
Braces color combinations and trends have been popular among teenagers over the years, offering many color options for people to express themselves while undergoing orthodontic treatment. Also, you can change the colors of your brace bands at every appointment. So, don't hesitate to have fun with your braces and let your smile shine in the colors that reflect your personality and preferences. Talk to your emergency orthodontist near me about the treatment plan and consult whether it is a good idea for you.
Related Posts
Andrin Andrin / November 29, 2023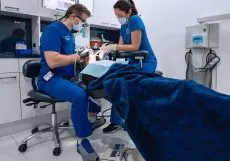 Andrin Andrin / November 9, 2023
Andrin Andrin / November 8, 2023